Consistent High Performance is very tough, but FirstHive did it again. Customers of FirstHive have rewarded the platform as a high performer, twice.
Ease of use, product adoption and onboarding, ticket resolution, and 20 other customer experience parameters are evaluated by customers before voting for us. We are delighted that FirstHive's Customer Data Platform has been elected as a High Performer in the Customer Data Platform category.
Twice in a row!
As we have been growing, in the last two quarters of summer and fall, our customers have rated us as a High Performer.
The latest ratings by our customers are as represented below: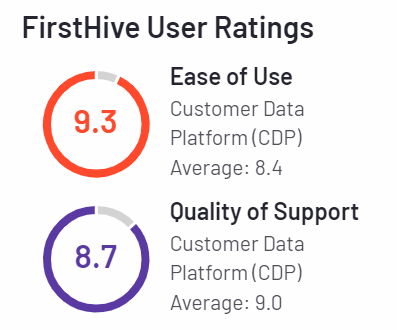 FirstHive's Customer Data Platform has been evaluated for its campaign automation, analytics, and customer identity creation abilities. Some of the reviewers are also users of the CDP extensions such as loyalty management, B2B2C marketing module, and connector module.
The platform supports in-built tag management, personalization, customer engagement, single customer view, and data ingestion. It also allows data teams to integrate their data lakes into the system. It provides APIs and connectors to integrate your existing martech stack into the Customer Data Platform.
We provide sector specific onboarding support and bespoke campaign design support for marketers to jumpstart quickly from the platform.  
The platform can integrate seamlessly with your CRM, e-commerce portal, banking app, Whatsapp chat, and over 700 other tools in the marketing technology universe.