In today's digital landscape, data is omnipresent. The challenge lies in leveraging this data for better customer experiences, higher revenue, and improved customer relationships. For marketers and business leaders aiming for growth, a Customer Data Platform (CDP) provides real-time data processing and hyper-focused segmentation. But does having an MDM system negate the need for a CDP? Quite the contrary – the two can be powerful allies, and here's how.
MDM – Your Fundamental Data Plumbing Layer
MDM not only enhances data throughout an enterprise by ensuring consistent and accurate key identifiers for each data entity but also streamlines data processing and sharing across various business systems within a single ecosystem. By aiding data scientists and IT teams with data cleansing and mapping, MDM prepares data for advanced analytics techniques, paving the way for insightful business discoveries.
CDP – a Growth engine with real-time customer insights
Interweaving client-side data through tags and server-side data from other platforms, a CDP offers a built-in data layer which maps similarly purposed fields from source applications into a standardized format, regardless of their unique naming conventions. Furthermore, CDPs enable marketers to stitch together user identities and activities by applying logic and embedded intelligence, utilizing various data points such as email addresses, phone numbers, birth dates, and additional distinguishing IDs. Through data unification, platforms like FirstHive assign a unique ID to each user, establishing a robust and reliable data foundation.
Supercharging Your MDM with CDP
While MDM and CDP both establish master records, they cater to different objectives. A CDP, armed with its real-time analytics and data activation capabilities, equips marketing teams to deliver personalized customer experiences. Simply put, using an MDM in tandem with a CDP can skyrocket a marketer's potential, promising impressive results in both short and long-term perspectives.
By aligning with a CDP, an MDM can become a pivotal component in the CDP's data ingestion pipeline. MDM, with its rich storage of historical data in structured formats, can be activated by a CDP to breathe life into historical customer data flowing through the MDM.
For data activation in third-party systems, marketers require access to event-driven customer data. A CDP provides a common identifier for activation – a unique customer profile. Meanwhile, an MDM supports static attributes foundational to your first-party data strategy. Automated data collection from various touchpoints ensures that customer profiles maintain minute-to-minute accuracy, enriching the continuously evolving profile with first-party data like names, addresses, genders, and birth dates into a unique identifier.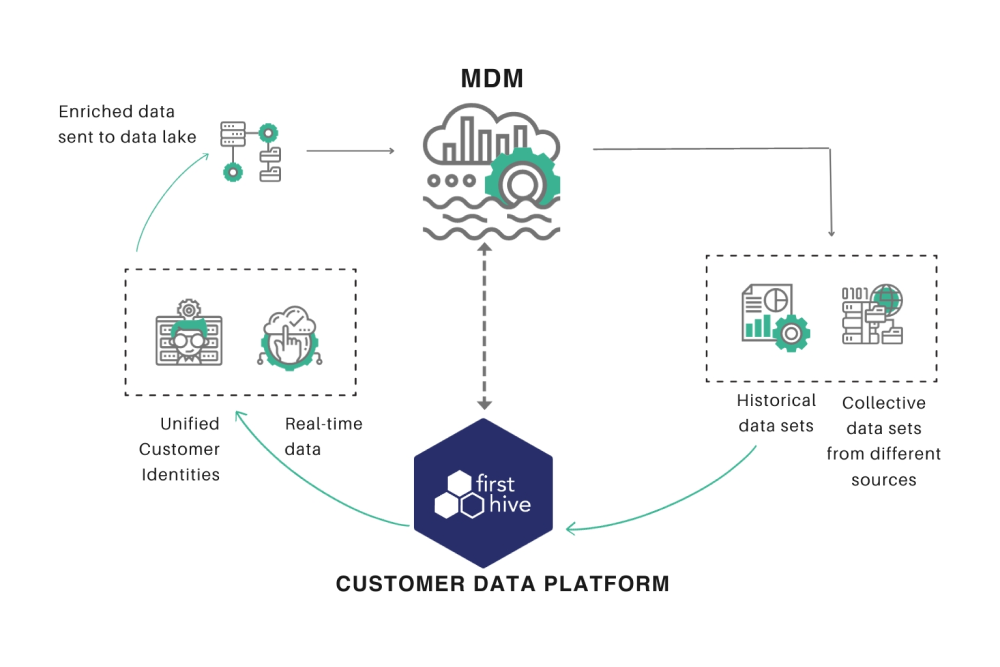 Navigating the Optimal Choice for Your Organization
Instead of choosing between MDM and CDP, organizations must explore how these two can harmonize. If robust data management, coupled with vibrant customer data activation, aligns with your goals, integrating both an MDM and a CDP may very well be your key to unlocking unmatched customer insights and engagement.